Witches and Bandits and Swords (Oh My)
Comments
Log in with itch.io to leave a comment.
Managed to pick up the game on sale, made some kind of bonus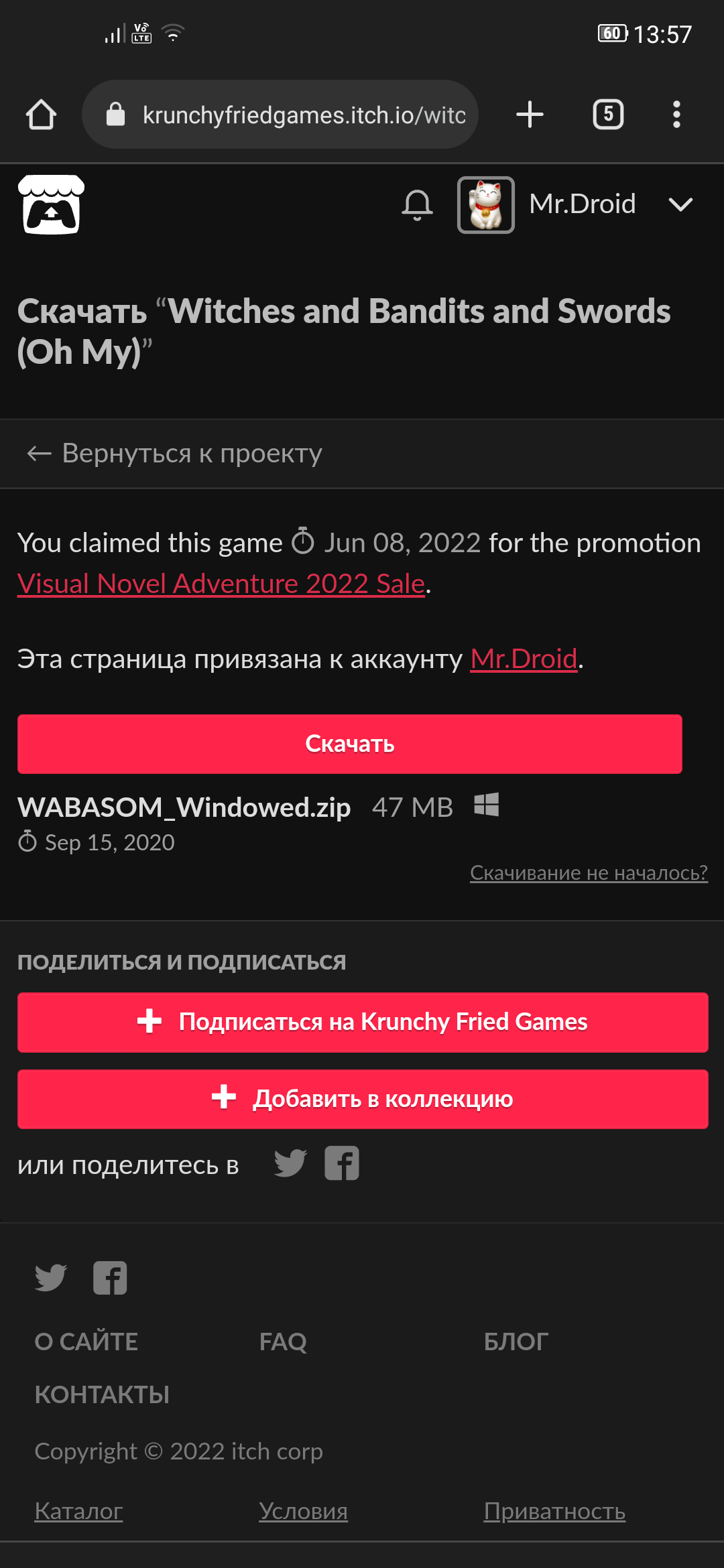 Weird, I can't claim it while it's free.
Hey! I played your game and It's so interesting. Thus, I rated you ☆☆☆☆ out of ☆☆☆☆☆. All the best!
I recorded a video for your game if you wanna check on it this is the link:
Hello. This is a very good game.
Pros
- I like the art style a lot.
- You can mute the bgm, really cool.
- Very good stories.
- The start credit is interesting!
- very logical.
-This is a browser game.
- good music and sound fx
Cons
- Too much words, people might not play this for a lot.
- Only pressing buttons, I would recommend have some more mechanics, like if you chop wood, you can click on the log instead of just pressing a button.
conclusion
This is a great great game! 8/10. Good job. Im looking forward to you future games.
Thanks for checking it out! This actually started off life as a book, so that might explain a lot of things. Our video games are gradually becoming more... video gamey XD
Hello,
In the zip file, there's a file called index.html. Is it used to play in the browser? If so, it doesn't seem to work.

Also, I played the game a little, and I'm already enjoying it a lot
Hi, glad you're enjoying it!
No, you don't need the index file for the browser game. In fact, since the download is a book, you don't really need it for anything now. I'll probably delete it.
Thanks for your comment :)

I see, thank you very much for explaining
Ok, we've made some changes- there is a now a downloadable version of the game available alongside the book.
Thank you very much
Just a heads up, but the name of the executable doesn't match that of the data folder, so the game won't open until either the folder or the executable are renamed to match each other.
Other than that, it appears to run perfectly
Thanks a lot for the heads up. This is what happens when a writer like me tries to do basic tasks, rather than the coder XD
I've changed it now.

A mix of fun, awkwardness and logic, cool game!
I am curious as to how you made the images and people?

Thanks! This started out life on Deviant Art, and the images are dA stock models (linked to in the credits) which I then edited with Gimp and G'Mic to give all the different photos a similar style.